URBAN RENEVAL / 24.11.2010.
The Department of Urban Planning and Design at the University of Technology and Economics declared the year 2010 to be the year of "Urban Renewal". As part of that undertaking, the objectives of various university courses and several research projects initiated by our department were connected to this theme. The conference on 24 November in the Assembly Hall of the university's Central Building was also part of that program… but what makes this issue so topical?
1. SZEKCIÓ / SESSION
VIDOR Ferenc DSc
ELMÉLETI MEGKÖZELÍTÉSEK A VÁROSFEJLESZTÉSHEZ ÉS TERVEZÉSHEZ / ACADEMIC APPROACHES OF URBAN DESIGN AND PLANNING
BENKŐ Melinda PhD
A VÁROSMEGÚJÍTÁS SZEREPE AZ ÉPÍTÉSZKÉPZÉSBEN /
THE ROLE OF URBAN RENEWAL IN ARCHITECTURAL EDUCATION
Tiberiu FLORESCU PhD
ÚJ KÖZELÍTÉS A VÁROSMEGÚJÍTÁSBAN: (ÁT)ALAKULÓ VÁROSOK / NEW APPROACH IN URBAN RENEWAL: TRANS-FORMING THE CITIES
SZILÁGYI Kinga PhD
A VÁROSI KÖRNYEZETTŐL AZ ÉLHETŐ TELEPÜLÉSI TÁJIG / FROM ENVIRONMENTALISM TO LIVEABLE URBAN LANDSCAPE
2. SZEKCIÓ / SESSION
LOCSMÁNDI Gábor PhD
HÚSZ ÉV MÚLTÁN – VÉLEMÉNYEK ÉS TÉNYEK A REHABILITÁCIÓRÓL / 20 YEARS AFTER – VIEWS AND FACTS IN URBAN PHENOMENA
Lubica VITKOVÁ PhD
A POZSONYI VÁROSSZÖVET ÁTALAKULÁSA / TRANSFORMATION OF URBAN FABRIC IN BRATISLAVA
KÁDÁR Bálint
URBANITY BUDAPEST – HÚSZ ÉV MÚLVA / URBANITY BUDAPEST – TWENTY YEARS LATER
BELEZNAY Éva
A SIKERES VÁROSMEGÚJÍTÁS ESZKÖZEI /
MEANS FOR SUCCESSFUL URBAN RENEWAL PROGRAMS
3. SZEKCIÓ / SESSION
KRAHLING János PhD
TÖRTÉNETI VÁROSKÖZPONTOK VÁROSÉPÍTÉSZETI MEGÚJÍTÁSA URBAN RENEWAL IN THE HISTORICAL CITY CENTER
Jean-Michel KNOP
ÖRÖKSÉGVÉDELEM ÉS VÁROSMEGÚJÍTÁS: A "FRANCIA PARADOXON" / PROTECTION OF HERITAGE AND URBAN RENEWAL: THE "FRENCH PARADOX"
ALFÖLDI György DLA
URBAN QUARTET – A VÁROS ÉS A TÁRSADALMI SZÖVET KÖLCSÖNHATÁSA / URBAN QUARTET – INTERACTION BETWEEN SOCIAL AND URBAN FABRIC
SONKOLY Gábor PhD
TÖRTÉNETI VÁROSI TÁJ – FOGALOMELEMZÉS /
HISTORIC URBAN LANDSCAPE – A CONCEPTUAL ANALYSIS
4. SZEKCIÓ / SESSION
MEGGYESI Tamás DSc
ÉPÍTÉSZET ÉS VÁROSFEJLESZTÉS KÖZÖTT / BETWEEN ARCHITECTURE AND URBAN PLANNING
Socrates STRATIS PhD
AZ ÖSZTÖNZŐ NYILVÁNOSSÁG ARCHITEKTÚRÁI / ARCHITECTURES OF ENCOURAGING PUBLICNESS
SZABÓ Árpád DLA
FENNTARTHATÓSÁGI MINTÁK SUSTAINABILITY PATTERNS
ERŐ Zoltán
URBANISZTIKAI TETT VAGY SPONTÁN VÁROSFEJLŐDÉS URBANISTIC ACTION OR SPONTANEOUS DEVELOPMENT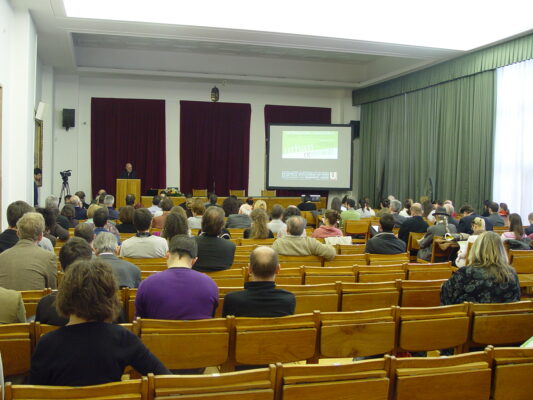 The printed publication of the URBAN RENEWAL Conference held on November 24th, 2010 is on sale at the Library of the Department of Urban Planning and Design (Bp., Műegyetem rkp. 3. K. building, room 273). The price of the publication is 3000 Ft. The foundation for Urban Architecture gives a certificate of donation to the amount of the sum.