CHANGING CLIMATES – The future has started
In architecture, but especially in Urban Design research and design cannot be separated. When forming our built environment we look for (search) the imagined future that we test through our drawings and with the tools of architectural representation.
The department in its artistic/design TDK (Student's Scientific Research Conference) announces more themes and thematic workgroups connected to the CHANGING CLIMATES thematic year. The workgroups give answers to their own research questions, keeping in mind the common framework of the department.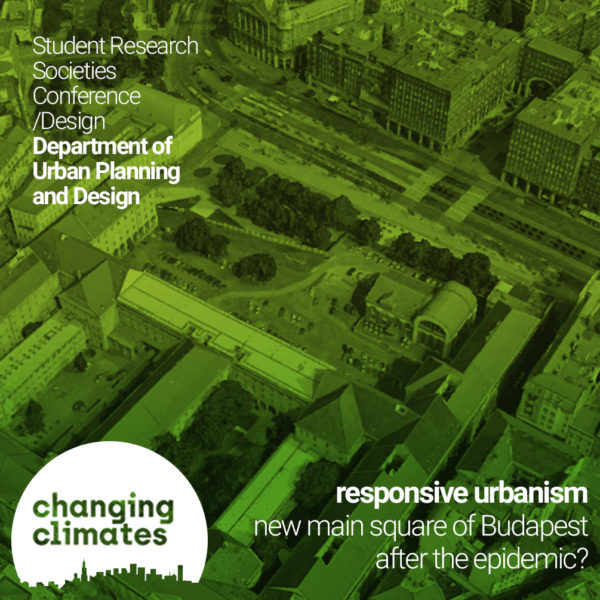 SMART SPACES BUDAPEST /// CITY HALL PARK
As a result of the changing circumstances, the space usage of our public spaces is continuously in transformation. Independent of the current circumstances we spend more and more time in online space, but at the same time, the importance of public spaces is also getting bigger. What do those squares mean today and in the future? What smart and climate-friendly solutions can be used in such cases? How can the public opinion and the expectations of the locals be integrated into such an open process? The task of the (research-based) design is the environment of the CITY HALL OF PEST where we look for innovative answers to requalifying a possible MAIN SQUARE OF THE CITY.
We look for new answers to one of the most exciting sites of BUDAPEST, with complex historical layers: the former city wall, numerous prestigious institutions in the vicinity, and the busiest hub of the city. The municipality has also recently initiated a participatory poll on the future of the square (LINK) that can also be channeled into the process, while the recent health situation has also dramatically changed our relation to open spaces.
The TDK task is based on two parts:
research of a very (site) specific topic connected to the motto "changing climates", which will result in a written essay – the topic can be historical, social, artistic, technological etc…
storytelling and visualization of the intervention based on the research with the one axonometry of the site – A1 poster.

If you are interested, register with writing an email to:
UFLab / DARK MODE/ LIGHT MODE:
uflab at urb.bme.hu;

alfoldi.gyorgy at urb.bme.hu

;

kurucz at urb.bme.hu

SMART SPACES BUDAPEST:
szabo.arpad at urb.bme.hu